Ferrous: Iron, steel, and cast iron metals are protected using ZERUST®/EXCOR® Ferrous Packaging.
Non-Ferrous: Aluminum (and aluminum alloys containing copper and/or manganese), copper, brass, bronze, and fully galvanized steel are protected using ZERUST®/EXCOR® Non-Ferrous Packaging.
Multimetal: Products that contain combinations of the Ferrous and Non-Ferrous metals listed above can be protected by ZERUST®/EXCOR® Multimetal Packaging.
Silver: Is protected from tarnishing with ZERUST®/EXCOR® anti-tarnish packaging or film with acid-gas scavenger additives.
Related Products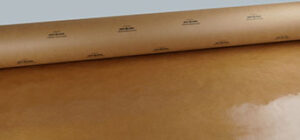 ZERUST® ICT®432-35P is a kraft packaging paper containing ZERUST® Vapor Corrosion Inhibitors (VCIs) coated with a plain polyethylene layer (coating on one side of the sheet only).